This is the address of Tuesdays staging area. The set should be fairly near by.
Linfield National Golf Course
66 Church Rd.
Linfield, PA 19468
At work this morning I was reading the paper (on company time, wouldn't have it any other way) and found this: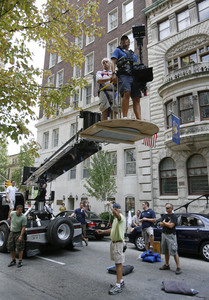 M. Night Shyamalan is going for his first-ever R rating with his new film, The Happening, and people on both sides of City Avenue could see why.
Shyamalan and company staged a death scene and a bloody car crash Tuesday for the thriller about a family on the run. The crew erected large screens on 69th Street near City Avenue in the Overbrook Farms section to shield the curious from the "deaths." Still, one passenger aboard a SEPTA bus seemed stunned at the scene, which made graphic use of lifeless stuntmen.
Later on, in Wynnewood, a speeding jeep occupied by John Leguizamo was filmed crashing into a tree on Andover Road where it splits to Allendale Road and forms a grassy island popular among dogs. The tree was a prop, and the "wrecked" jeep was suspended by cables and pulleys. On crew members' way out, they planted flowers and spruced up the knoll.
Wednesday found the company in Center City on Smedley Street near Pine. Liz Sieber, who owns the boutique Omoi nearby, reports a jingling cash register while Shyamalan and star Mark Wahlberg were out front. Shyamalan bought a hat and gave it to a crew member, Sieber says, and costar Zooey Deschanel bought string dolls. Thursday and Friday, the crew filmed on Rittenhouse Square.
With that, The Happening is out of the city and off to the suburbs (including Pottstown and West Chester) for the duration. Twentieth Century Fox has set a June release date.
http://www.philly.com/philly/entertainment/todaystalk/20070902_Inqlings___Shyamalans_slam-bang_filming.html